SecureData SecureDrive BT

Hardware-Encrypted, External Portable Drive with Phone Authentication
SecureDrive BT - 1 TB HDD
#SD-BT-12-BU-1TB
List Price: $285.00
Our Price: $259.00
Works across and with any OS or device:

Includes:
External drive
DriveSecurity Antivirus powered by ESET – 1 Year License
USB 3.0 cable
USB-C cable
Carrying pouch
Quick start guide
Click here to jump to more pricing!
Overview
The Secure Data Storage Solution: SecureDrive BT
The hardware-encrypted SecureDrive BT eliminates data leaks while keeping digital files safe. The device is hardware-encrypted paired with wireless authentication via a mobile device and is FIPS-validated. It can be remotely wiped from anywhere in the world if your device is lost or stolen.
SecureDrive BT is Remote Management (RM)-ready through a separate subscription that can be added at any time after purchase. RM allows an Admin to manage drive access remotely to view users, enable geo- and time-fencing, and perform remote password reset. Each of these features are performed software-free through a web portal.
Easy-to-use, hardware-encrypted, external hard drive with Bluetooth and extra security features:
FIPS 140-2 Level 3 Validated: Certificate #3349
Awards: Red Dot 2019 Award Winner and CES 2019 Innovation Award Honoree
Works with any device with a powered USB port
Hardware encryption: XTS-AES 256-bit
Interior parts covered in epoxy to prevent media removal from hackers
User authentication with secure wireless mobile app with encrypted Bluetooth (iOS & Android)
Remote wipe
Dual factor authentication, Face ID/Touch ID authentication, password retrieval
Admin/user modes (*Admin mode for Remotely Managed drives only)
Read Only mode
Auto-lock
Remote Management-ready* (sold separately)
Preloaded with DriveSecurity ESET Antivirus (1-year license included)
*SecureData Remote Management uses DataLock RM technology licensed from ClevX, LLC. U.S. Patent.
---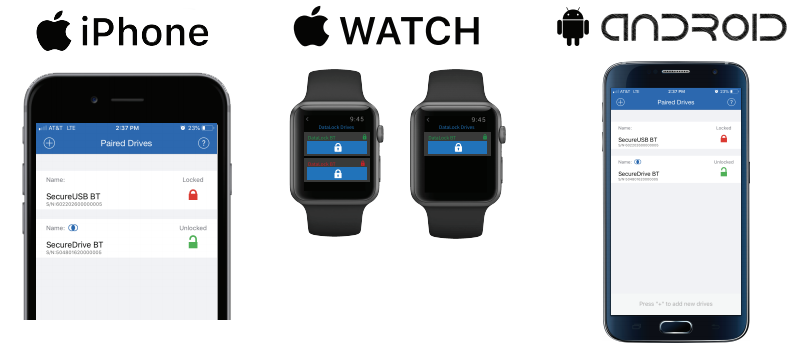 Download Mobile App from:
---
Pricing Notes:
Pricing and product availability subject to change without notice.
SecureData Products
SecureDrive BT Hard Disk Drive (HDD)
SecureDrive BT - 500 GB HDD
#SD-BT-12-BU-500GB
List Price:
$249.00
Our Price: $219.00
SecureDrive BT - 1 TB HDD
#SD-BT-12-BU-1TB
List Price:
$285.00
Our Price: $259.00
SecureDrive BT - 2 TB HDD
#SD-BT-12-BU-2TB
List Price:
$339.00
Our Price: $309.00
SecureDrive BT - 4 TB HDD
#SD-BT-20-BU-4TB
List Price:
$429.00
Our Price: $389.00
SecureDrive BT - 5 TB HDD
#SD-BT-20-BU-5TB
List Price:
$559.00
Our Price: $509.00
SecureDrive BT Solid-State Drive (SSD)
SecureDrive BT - 250 GB SSD
#SD-BT-12-BU-250GB-SSD
List Price:
$319.00
Our Price: $289.00
SecureDrive BT - 500 GB SSD
#SD-BT-12-BU-500GB-SSD
List Price:
$395.00
Our Price: $359.00
SecureDrive BT - 1 TB SSD
#SD-BT-12-BU-1TB-SSD
List Price:
$559.00
Our Price: $509.00
SecureDrive BT - 2 TB SSD
#SD-BT-12-BU-2TB-SSD
List Price:
$969.00
Our Price: $879.00
SecureDrive BT - 4 TB SSD
#SD-BT-12-BU-4TB-SSD
List Price:
$1,879.00
Our Price: $1,709.00
SecureDrive BT - 8 TB SSD
#SD-BT-12-BU-8TB-SSD
List Price:
$3,639.00
Our Price: $3,309.00